Roofers in Deepcar, Penistone and Stocksbridge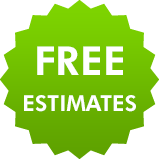 If you've been in search of quality, expert roofers who cover the Deepcar or Stocksbridge area, then put your trust in us. We have many years of experience with a range of roofing materials and styles to suit your needs, taste and property style, so get in touch.
We only use the best materials and provide our service at cost effective prices, assuring you of quality service available today.
Call your local S36 roofer
You can call us for any roofing works in the Penistone, Thurlstone, Millhouse Green, Oxspring, Stocksbridge, Deepcar and Bolsterstone. We are a local company that will look after:
Roof repair work
All flat roofing
Tile & slate roofing
Built-up felt roofs
Full/part re-roofing
Chimney repair
Flashing repairs
Velux windows
Guarantees on all roofing work
In these tough financial times, the last thing you need is to have to pay for something twice. Everything we do comes with a 'no-quibble' guarantee. Thist means that if anything was to go wrong, we'd resolve it - no arguments.
If you're in S36, give us a phone today if it's the roofing professionals you want. We'd be delighted to provide you with a free quote on any roof work. Ring 0114 304 9857.